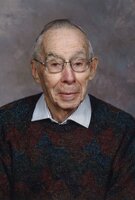 Raymond Wallace Facey
Ray passed away at St. Marys Memorial Hospital on Oct 25, 2021 in his 97th year.
Dear husband and best friend to Reta Ila Facey (Mainprize) for 71 years.
Loving father of Lorne & Linda Facey, Donna Munro, Janis Kapp & Rich Parsons, and
Marie Facey & Gus Fraser. Proud Grandpa to 5 granddaughters: Kathy, Karen,
Rebecca, Jennifer, and Crystal. With 10 great grandchildren: Jade, Ares, Ryder, Austin,
Myles, Oliver, Charlotte, Emma, Isabella, and Addison.
Survived by his sister Pat Monteith, brother Ivan & Joan Facey, sister Helen & Barry
Dickson, sister-in-law Vera Haves, and many nieces and nephews, including Kim &
Lyndon Kowch.
Predeceased by brother Bill & Marion Facey, sister Erma & John Sutherland, brother
Jack Facey; brother Edmund & Caroline Facey; and brother-in-law Ken & Marian
Mainprize.
Ray spent 60 years working for the Journal Argus. He spent many years travelling with
Reta and with square dancing groups. He enjoyed his stamp collection, spending time
in their gardens and helping out with Horticulture Society events. He loved to play
crokinole, euchre and cribbage. He was a long time member of the St. Marys United
Church.
Thank you to Dr. Yung, Dr. Hepburn, Dr. Gatfield and all the nurses and caregivers at
both the St. Marys Hospital and Wildwood Care Centre.
A funeral service was conducted at the Andrew L. Hodges Funeral Home on Friday, Oct. 29, 2021.
Click here to view a video of the funeral service.
In lieu of flowers, donations can be made to the

St. Marys United Church
85 Church St S, St. Marys, ON N4X 1B3

or St. Marys Healthcare Foundation.
P.O. Box 940 St. Marys, ON N4X 1B6