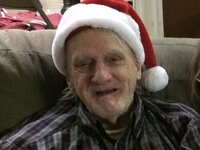 Kenneth Saunders Cook
Kenneth Saunders Cook passed away at St. Marys Memorial Hospital on November 8, 2021 at the age of 87.
He grew up in North Easthope Township. Ken had five sisters and four brothers (all deceased). Ken married Colleen Robinson-Willis on November 18, 1960. She died on March 2, 2005. Loving father of Daniel and Sandra Cook of Egmondville, Linda and Earl Scott, Debrah and Michael Van Galen, all of Woodstock, Diana and Joseph Lambert of Stratford. Proud grandfather of Amie, Rebecca, Joshua, J.R, Amber, Candice, Jessika, Emily and Thomas. Great-grandfather of 15.
Cremation has taken place. His remains will be placed with Colleen at the St. Marys Cemetery. Due to the pandemic, the family has decided not to have a funeral service, instead a Celebration of Life will be held at a later date.
Ken's children would appreciate any stories or kind words that you would like to share about him.