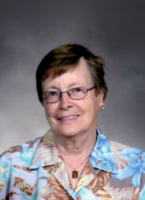 Theodora Hermanna Jacoba "Thea" Van Dam
Theodora (Thea) Hermanna Jacoba Van Dam (nee Neinhuis) passed away peacefully with family by her side on November 10th, 2021, at the age of 91.
Thea was born on January 31st, 1930 in Noordwolde, Holland to Hermannes Nienhuis and Catherina Poelma. After finishing school, spent her young adulthood as a devoted live-in Kraamverzorgster (maternity nurse) in Haarlem. In 1957, after exchanging letters with Martin Van Dam, they married and she immigrated to Canada to join him on a dairy farm in St. Paul's, Ontario.
She had an avid green thumb, filing her windows with orchids and cacti. Thea loved to watch her kids and then grandchildren play sports, and often spent her weekends at the local hockey rink.
Thea is survived by her sister Coby Bols, sons Julius, Harry (Andrea), Martin (Cheryl), and Ron (Mary Ann), as well as grandchildren Melissa (Devon), Roxanne (Brad), Ryan, Mark, Jeremy, Grant, Darren, Grace, Claire, Ruby, and Jorja. She is predeceased by her husband Martin, son Terry, brothers Herman, Frans, Jan, Johan, Fritz, and sisters Tina, Agatha, and Greta.
Our sincere thanks and gratitude to the staff at Kingsway Lodge in St. Marys for their exceptional care.
A private family service will be held.