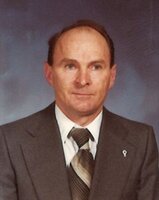 William "Bill" Pickell
William E. "Bill" Pickell, of Thorndale, born January 31, 1934 passed away peacefully on November 17, 2021 at Wildwood Care Centre, St. Marys, at the age of 87.
Loving husband of Mary (Burgess) for over 65 years. Amazing father of Margaret Watt (John, deceased) of St. Marys, Donald Pickell and David Pickell, both of Thorndale. Loving grandfather of Steven and Cheryl Watt, Brandon, and Jordan Pickell. Dear brother of Norma and Lewis Haves of St. Marys, Dorothy McLeod (deceased), Brenda and Leonard Person of St. Marys. Also remembered by his friend and roommate at Wildwood Care Centre, Stephen Cookson. Predeceased by his parents Ken and Verla Pickell (Cooper) and step-mother Ina Pickell (Carr, King).
Bill's passion was repairing farm machinery which eventually led to his own business "Bill's Place." Devoted to his community, Bill was a 50-year charter member of the Thorndale Optimist Club and a 32-year member as a volunteer firefighter. He loved travelling, square dancing and snowmobiling.
Sincere thanks to the nurses and caregivers at Wildwood Care Centre.
Cremation has taken place. No funeral service is planned at this time.
Memorial donations may be made to:

Ontario Heart & Stroke Foundation
2300 Yonge Street, Suite 1300, Box 2414
Toronto Ontario
M4P 1E4

Alzheimer Society of Perth County
1020 Ontario St #5,
Stratford, ON N5A 6Z3

Golden Years Wildwood Care Centre
100 Ann St.
St. Marys, Ontario
N4X 1A1