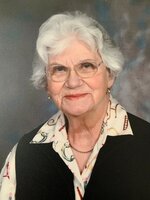 Anna Juhasz
Anna Juhasz of St. Marys, Ontario, passed away at Sakura House in Woodstock on Christmas Day 2021 at the age of 88.
Born in Budapest Hungary, daughter of the late Imre Darvasi and Etelke (Hόdos) of Felsὄgὄd, Hungary. Beloved wife of the late Louis Juhasz (2003). Loving mother of Elizabeth Carr (David), Louis (Monica), James (Pamela), Frank and Stephen (Heather). Proud grandmother of Louis, Laura, James, Sarah, Nadia and Ellen. Sister of the late Irma Darvasi (2001) of Felsὄgὄd, Hungary.
A special thank you to the staff, nurses & doctors that provided exceptional care for Anna.
A private family Funeral Mass will be celebrated at Holy Name of Mary Parish on January 12, 2022.
Click here to view the video of the service.
Interment in St. Marys Cemetery.
Memorial donations can be made to VON Sakura House in Woodstock.
Cheques made payable to VON Oxford
550 Ingersoll Avenue, Woodstock, ON N4S 4Y2
(put VON Sakura House in the memo line).