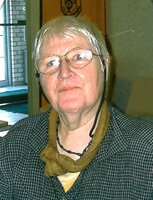 Bernice Weir
Bernice Weir, at the age of 77, passed away on January 3, 2022 at Kingsway Lodge, St. Marys.
Predeceased by parents Melvin and Mable Weir, and brothers Ken and Lorne.
Survived by her sister Eileen (Frank) Clark and eight nieces and nephews.
Many thanks to the Alice Saddy Association who assisted Bernice to live on her own for many years in Thorndale and to the community of Thorndale for looking out for her welfare. Also, thanks to Kingsway Lodge for taking sure good care of Bernice.
Interment will take place on August 11, 2022 at 11 am in St. Marys Cemetery. It will be a causal gathering of family and friends to share memories and witness the burial of Bernice's cremated remains.