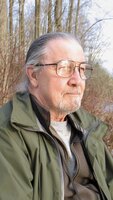 Ian Douglas Bruce
Ian Bruce, 87, passed away January 12, 2022 at Craigwiel Gardens, Ailsa Craig, Ontario.
Born April 1934 in Port Arthur, Ontario, son of the late Margaret (Ostrum )and Victor Bruce of Thunder Bay, Ontario. Predeceased by his sisters Wilma, Isabelle and Geraldine.
Dearly missed by his wife Catherine and her children Mark Stevens (Darlene) and Michal Lowthorpe (Steve). Survived by his first wife Barbara and their children Catherine O'Brien (Patrick) and David (Shelley) as well as grandchildren and great grandchildren.
Ian spent his youth in Fort William, hopping trains, swimming in the "Kam" River and developing his love of the outdoors. He was a Navy Veteran based in Churchill, Manitoba with later postings abroad. A graduate of Nova Scotia College of Art and Design in Halifax, he taught art at Bayside Junior High in Saint John, N.B. His natural talent for the arts included woodcarving, oil painting , print making, and creating glass beads. A life well lived -- " I took the one less travelled by, And that has made all the difference " from Robert Frost "The Road Less Travelled".
Cremation has taken place and a gathering of family and friends to remember and heal will happen when safe to do so.