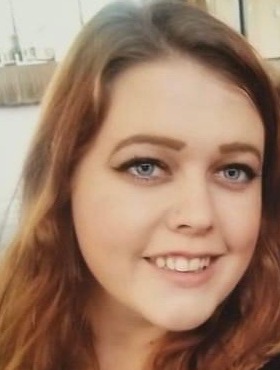 Emily Kathryn Armstrong
Emily Kathryn Armstrong, age 28, of London and formerly of St. Marys passed away at London Health Sciences Centre, Victoria Campus on Sunday, July 24, 2022.
Cherished spouse of Shane Newton. Beloved daughter of Dan and Wendy Armstrong (nee Benjamin) and daughter-in-law of Steve and Kim Newton (nee Leduc). Loved sister of Kevin and Ben Armstrong. Sister-in-law of Keith Newton and Payton Cabral. Granddaughter of Kathy and the late Dennis Benjamin and Irene and Bill Armstrong. Dear niece of Kevin and Shelly Benjamin, Glen Benjamin and Tracey Hartung, Dianne and Chico Downing and Gloria and Al Strathdee. Cousin of Brittany (Tyler Kittmer), Brady, Katie, Logan, Madeline and Ella Benjamin, Jacob and Casey Downing, and Andrea, Billy and Rachel Strathdee. Emily will also be greatly missed by the extended Benjamin, Field, Leduc, Newton and Armstrong families.
Emily was very active in St. Marys growing up. She belonged to the St. Marys Children's Choir for many years. Her love of music followed her throughout her life. She had a beautiful voice and was a talented piano and guitar player. Emily was known as a great teammate and skillful player for many years with the St. Marys Girls Minor Hockey League. Emily is known in the community for working at many local businesses such as the World's Coolest Music Store, the St. Marys Golf Course, Tim Hortons, Kingsway Nursing Home, Echo-tech and McPhail's Pet Store. She was always a hard worker and keen to help out anyone in need.
After graduating from Fanshawe College in London from Business, she gained employment at Sound Financial Strategies in Sudbury and eventually began her career with Hydro One. She started in Sudbury, moved to Barrie and then found her permanent location in Woodstock. Emily related to people easily and working in Customer Service was a natural fit.
Emily loved to have fun and had a passion for all things that made people happy. She loved her cats Stella and Stuart; Disney; the shows: Friends, Supernatural, Stranger Things, Game of Thrones, Scooby Doo, Kingsmen, The Hobbit, Lord of the Rings, Harry Potter, Momma Mia, Moana, Beauty and the Beast and generally all musicals. She excelled at Skyrim, Kingdom Hearts and Zelda and loved to play with her brothers. She considered Manitoulin Island her happy place.
Emily will be forever remembered for her tremendously big heart, determination, candor, free spirit, wonderful disposition and her big blue eyes. She engaged everyone around her with her vibrant love of life, family and many, many friends.
The Funeral Mass will be held at Holy Name of Mary Parish, 149 King St., North, St. Marys (corner of Peel St. and Widder St., E.) on Saturday, July 30, 2022 at 11:00 am. The service will be livestreamed, click here to register to view.
Following the interment in St. Marys Cemetery a reception will be held at the Masonic Hall at 46 Thames Road.
As expressions of sympathy, memorial donations may be made to
Music Bursary Fund being set up by Emily's family. If donating by cheque, make payable to Kevin Armstrong and mail to the Hodges Funeral Home, P.O. Box 304, St. Marys, Ontario. N4X 1B2
or the Stratford Perth Humane Society, 125 Griffith Rd. Stratford, Ontario, N5A 6S4