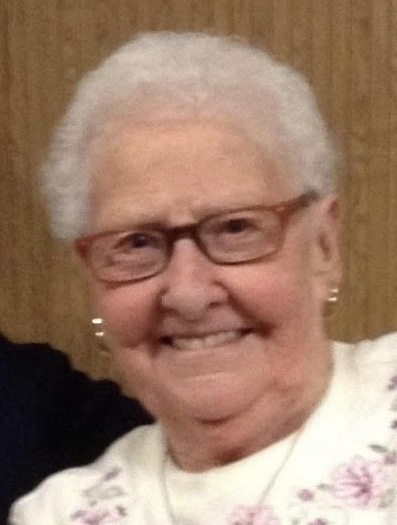 Elizabeth Irene "Betty" Frayne
Elizabeth Irene Frayne, in her 88th year, passed away after a short illness at St. Marys Memorial Hospital surrounded by her loving children on January 1, 2023.
Born in Prospect Hill to Mary and Gordon Peacock on April 5, 1935. She has gone to join her beloved husband Harold (2021) and son Bill (2013).
Left behind are daughter-in-law Julie, sons Bob (Angie), Ed (Jean), Jim (Rose), John (Ginny) and daughters Sherry (Peter) Fedyk, and Patty (Dan) Fugard. Brother and sister-in-law of Ross and Marlene Mathers. Grandmother to Lisa, Trisha, Chad, Scott, Jared, Mike, Mark, Carrie, Kelly, Marty, Joe, Jason, Stacey, Angie, Ryan, Brittany and Zac and will also be remembered by 33 great-grandchildren and 2 great-great-grandchildren.
Besides her parents, Betty was predeceased by sister Shirley (Lenord) Mills, sisters-in-law Helen (Bob) Patterson, Darlene (Russell) Lee, mother and father-in-law George and Ella Frayne, daughter-in-law Carol (1987) and infant great-grandson Cohan (2013).
Mom loved her family and were her pride and joy.
A private family funeral service will take place on January 4, 2023 at 2 pm. A livestream of the service can be viewed at https://www.facebook.com/HodgesFuneralHome.
Spring interment in Kirkton Union Cemetery where she will be laid to rest with the love of her life Harold.
Donations may be made to the St. Marys Healthcare Foundation.