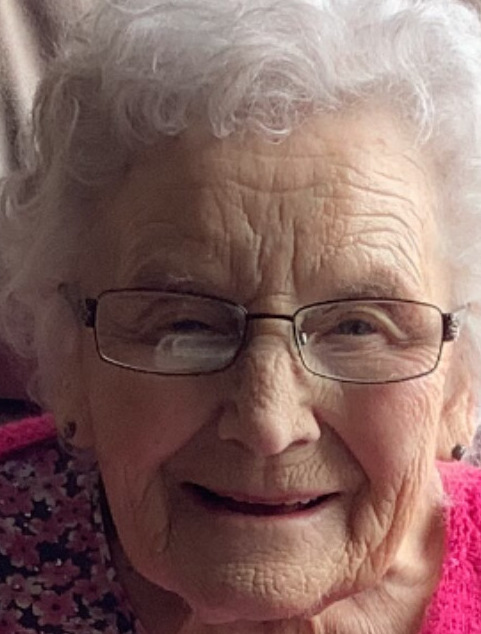 Visiting
10:00 am - 11:00 am
Friday, July 29, 2022
Holy Name of Mary Parish
149 King St. N
St. Marys, Ontario, Canada

Get Directions
Funeral Mass
11:00 am
Friday, July 29, 2022
Holy Name of Mary Parish
149 King St. N
St. Marys, Ontario, Canada

Get Directions


Obituary of Maria Elisabeth Eybergen
In loving memory of Maria "Rie" Elisabeth Eybergen (nee Traa) of St. Marys, born in Hoogland, The Netherlands.
It is with loving hearts that the family of Maria announces her peaceful passing surrounded by family on July 22, 2022, at the age of 95 at Kingsway Lodge in St. Marys. She was predeceased by her husband of 54 years, Nicholas (December 8, 2004).
Maria was the loving mother of Tina Douglas (Brian) of St. Marys, Rita Eybergen (Wade Andrews) of St. Marys, Bill Eybergen (Lorraine) of Lakeland Florida, John Eybergen of St. Marys, Nancy Taylor (Mike) of Dorchester, and Rose McClocklin (Darwin) of Lakeside, Zorra Township. She was the precious Oma of Ellen (Jim), Lori (Jim), Robert (Stacey), Adam (Jenn), Jeremy (Melissa), Jennifer (Craig), Lisa, Debbie (Jeremy), Nicholas (Kaitlyn), Gabriel, Beth, Ben (Gemma), Graham, Clara (Christian), Mathew, Wesley (Jen), Lacey (Brad), Malissa (Kyle), Blair (Haylee), and Connor (Georgia). Maria was the cherished Over Oma to Ashlyn, Gavin, Sawyer, Jessica, Leah, Liliya, Brooklyn, Morgan, Logan, Kenzie, Alexander (Haley), Josie, Zoey, Thomas, Winston, Sebastian, Logan, Sydney, Julian, Dorian, Cameron, and Desirae, and Over Over Oma to Lyrik.
Maria is survived by her sister Riet Schwitzner (Herman) and sister-in-law Corine Traa in Holland. She is also survived by sister-in-law Christine and brother-in-law Adrian Vander Hyden of St. Thomas, Ontario. She will be sadly missed by many nieces and nephews in Canada and in Holland.
She is predeceased by siblings Jan Traa, Leida Tomassen, and Gerades Traa of Holland.
Maria will be remembered as a wonderful storyteller. She loved telling stories from her childhood in Holland—skating on the canals, going for family bike rides, and picnicking by the sea, as well as living through the WW2 occupation as a teenager. As a young person she worked as a seamstress. She met her future husband Nick the first summer after the war, and they married in 1950 in a church that had been half bombed. They immigrated to Canada in 1952 and lived first in Saskatchewan and then in Alberta before coming to Ontario in 1953. They ended up in St. Marys in 1963 on a chicken farm on the edge of town. They remained in St. Marys the rest of their lives.
Throughout her life, Rie continued her love of sewing, needlework, crochet, and hairstyling. She also enjoyed gardening. She was very social and loved dancing, shopping and visiting with friends and family. In later years she took up Tai Chi and was very proud of her Red Pontiac G5 which she drove from age 76-80. More recently she has lived at Kingsway Lodge where she loved going to all the programs while she was able, especially anything to do with music. Maria's family sends a special thank you to her Kingsway family who gave her such wonderful care and compassion. A special thank you to Dr. Berta, Dr. Burley, and Nurse Practitioner Janice.
Her family described her as patient and strong; understanding and loving; creative, resourceful, and hardworking; kind and generous; courageous and determined to make the best of things. Shortly before her death she talked about how much she loved all her children.
We will miss you, Oma!
A line of pines to the north and west
A little house . . . a bluebird's nest
A glowing sun on cukes and grass
Blowing snow and frozen clothes
Lazy dogs with Oma and beans
Kitchen stove glowing . . . cooling again
These are the things a mother makes home
Thank you for all that you have been!
A poem by John Eybergen
Family and friends are invited to HOLY NAME OF MARY PARISH, Northeast corner of Peel St. N. and Widder St. E., St. Marys, on Friday, July 29, 2022 for visting from 10 am until the time of the Funeral Mass at 11 am with Fr. David Butler.
The Funeral Mass will be livestreamed by clicking this link. Please click the link before July 29, 2022 to register as a viewer of the service.
Interment in St. Marys Cemetery.
Reception to follow in the Parish Hall.
Memorial donations may be made to

Kingway Life Care
310 Queen St. E. St. Marys, On N4X 1C8
St. Marys Friendship Centre
P.O. Box 998, St. Marys, ON, N4X 1B6


Share Your Memory of
Maria