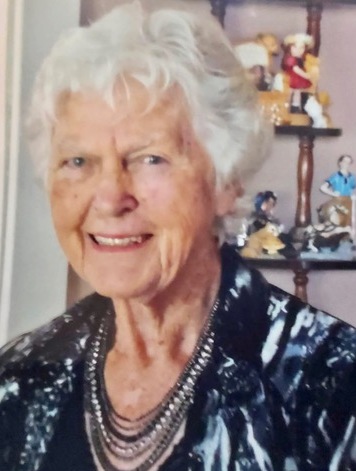 Obituary of Helen Jean McLean-Nethercott
Helen McLean-Nethercott (nee Thompson), age 88 years, on March 16th, 2022, died in the loving arms of her family and under the watchful eye of those who had gone before, her husbands Lloyd McLean (1981) and Gordon Nethercott (2014); her son Alan (1998); her great-granddaughter Vienna Francesca (2017); her parents Ballantyne and Margaret Thompson and parents-in-law Ralph and Violet McLean.
She is survived by Vernon and Bessie Thompson, Anna (late Bill) Stephen, Erma (late Bruce) McLean, John and Marlene McLean, Jean and Earl Foster, Len and Marg Boreham, Murray and Linda McLean, Doris (McLean) Forman and Ray, Eileen (late Bill) Nethercott and her best friends and cousins Laurine (late Oliver) McIntosh and Joyce (late Tom) McKay.
Helen is the ever loving and supportive mother to son Larry and Brigitte and their family Helen, Wanda & Steve, Robert & Dawn, Preston & Kim, Melissa & Josh, Basil & Amy, Michael & Vicki; son Al (deceased) and his family Pepper, Amber & Mike, Kyle, Ashlee, Peter & Suzanne, Emily; son Gord and Nicola and their family, Bonnie & Dave, Toni & Julian, Blake & Becky, Niki, Kayli & Mark, Montana & Tom, Cheynne; daughter Barb and Larry Ford and their family Jay & Michelle, Lisa & Ryan; daughter Betty Finnie & Zbig and her family Jordan, Brandon, Breken; daughter Marg and her family Lauren & Chad; step-mother to Joanne McFarlane and Michael McFarlane and their daughter Kristen; Allen and Cindy Nethercott and their son Dan; and holding a very special place in mom's heart, Fraser and Trudy Crinklaw and their son Calvin & Karla.
She is the very proud grandmother to 25 grandchildren, 41 great-grandchildren, 15 great-great grandchildren and 1 great-great-great grandchild.
Mom loved being a part of the Thompson and Mountain clans from birth and was fortunate to join into the McLean and Ulch families as a teenager when she married dad at the young age of 17 years old. She always looked forward to visits (in person or via telephone) with the many cousins and other extended family. Mom loved family and continued to nurture her relationships into the final days.
Mom lived on the Mitchell Road just north of Rannoch for the first eight plus decades of her life, moving from her childhood home near to Motherwell, to the home that she and dad built at Science Hill, before marrying in 1951. They raised their six children there, just a short distance from both of their family homes where they enjoyed the support and guidance of their parents and siblings. In 1981, Mom was devastated to lose the love of her life, Lloyd, in a tragic accident, leaving her a widow at just 47 years old. She mourned his loss deeply and always. A few years later she was reconnected with a wonderful man who had also grown up in the neighbourhood and who had come from his home in Thunder Bay to attend a mutual wedding. Mom and Gordon married shortly thereafter and she was blessed to share her life with him for 29 years before his death in 2014.
Mom loved to travel and travel she did, seeing more of the world than many of us could ever hope to see! Her travels were shared with family and friends throughout her adult life. In the early years she and Dad enjoyed winter vacations in Florida with Harry & Betty Waghorn; weekends away with Bill & Betty Hanly or attending Lions Club conventions with their 'Lions' family. In recent decades, Mom and Gordon travelled in their RV across the entire continent to dance at innumerable Square Dance conventions, often beginning or ending their journey at Gordon's beloved 'camp' at Barnum Lake, Thunder Bay. She loved her trips to the UK, Europe and Scandinavia with Marg; a European driving trip - 'Europe on $25.00 a Day!', with her three daughters (which we always considered a trip of a lifetime); Australia, New Zealand, China, Europe again, Mexico, and more. She considered herself well-travelled and for good reason!
Mom loved music, period. She sang beautifully - alto always - and played most any instrument she came across. The piano was her love though. Memories of mom at the piano, bringing family, community, the elderly, the sick, together, to enjoy the healing nature and connection of music will remain with all who knew her. As recently as Christmas, her neighbours at Fairhill could linger in the lounge and sing-a-long as she played tune after tune on their lovely grand piano!
Mom devoted many hours to volunteer work in her earlier years. Community Living, the hospital Women's Auxiliary, and her church benefitted from the gift of her time, and she was a lifelong member of the Women's Institute. Later in life, she found particular joy in financially supporting Operation Smile, PLAN International and Sleeping Children.
Mom's grandchildren (and great-grandchildren too) will remember her devotion to their sporting activities - hockey, ringette, baseball, soccer, dance. She and Gordon spent countless hours in cold arenas; the stands of a baseball diamond or the sidelines of a soccer field. She loved being a part of their world.
Family was everything to mom and indeed, family is her legacy. Although we are many in number, each and every one of us consider the other with love and respect and cherish any time we can spend together. This is her desire and her legacy, and it is real.
Due to the ongoing pandemic, the funeral service will be reserved for family only. We would love for it to have been different, but as we all know, 'we may be done with the pandemic, but the pandemic is not done with us'!
The Funeral Service will be livestreamed on the Andrew L. Hodges Funeral Home Facebook Page, www.facebook.com/HodgesFuneralHome
on Wednesday, March 23, 2022 at 2 p.m.
Click here if you require instructions for how to view a Facebook Live service.
COVID safety precautions will be maintained and we ask that anyone attending the service - reserved for family only please and you know who you are - be fully vaccinated and wear a mask.
Memorial donations to

Community Living St Marys & Area
PO Box 1618 St. Marys, Ontario N4X 1B9

Sleeping Children Around the World
28 Pinehurst Cres, Toronto, Ontario M9A 3A5

or to the charity of your choice


Share Your Memory of
Helen